Stash

Thought I would share a pic of my Fraser Brittany. Here is a pic of Stash at 9 months old in SD after a day working hard for his limit last Fall. 3 of us hunted over him and his brother (Patch) and ended up with 30 birds!
Awesome hunting and family dogs!
– Heath
Patch and Stash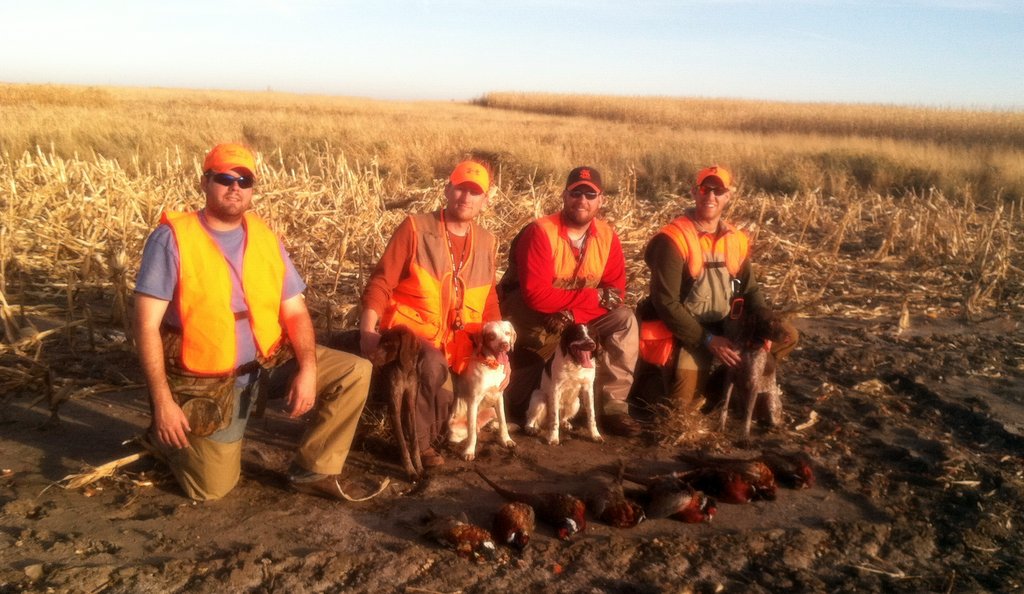 We love seeing photos of our dogs in the field. Patch and Stash (2 center dogs) were out of our last litter and are proving to be quite the hunters.
Sadie
I've been meaning to write or call for a while and happen to be around a computer today. Sadie is doing wonderfully! Joe and I are doing one-on-one bird dog training with her everyday and all three of us are going to a reputable bird dog trainer once a month. He gives us homework and then we come back when Sadie's got the hang of it. We took her shooting last week and next week we start working with pigeons.
On a walk just a few days ago, Sadie pointed for the first time…at a dragonfly! Hilarious and super cute.
She is learning commands really quickly and is also a fantastic family pet. The girls love her and she has been gentle and sweet with them. She's also well adjusted to our terrier/pug mix and our three cats. Everyone gets along beautifully.
We've taken her to the vet for booster shots and few additional vaccines. The vet said that her build and her health were perfect.
Overall, she has just been an absolute joy. She definitely helped Joe get back on his leg and her energy level is very well suited to our family. I just can't say enough good things.
If you would ever like to use us as a reference please feel free to do so. We will happily give other people our recommendation.
Just wanted to let you know that she is a great addition to our family, is well taken care of, and that we really appreciate your patience and flexibility in getting her to us.
Thank you so much and we'll try to send along photos when we can.
– Methanie