The puppies from Ruby's litter last summer just turned 1. We received some great photos and notes from our Facebook page and via email.
---
Just wanted to show you what a beautiful dog Reba Ruby has turned out to be! Can't believe she is a year old already! She has been such a joy – she has been out on our lake boat, road on a quad, and has traveled all over with us since we got her last August. Oh, and when we take her to play days at ABC in Fairbanks, she often gets to play with a littermate I am told. Small world. Thank you again for breeding such wonderful dogs!
---

Hank's 1 year old today. Thank you for the best pup we could ever ask for!!
---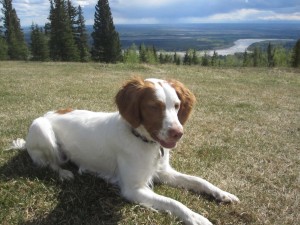 Ally is a great dog, really family oriented. We live out of town so she has plenty of room to run.  She is a real hunter.  Loves the tall grass looking for voles.  Any bird is an opportunity to chase.  Attached is a picture of Ally in May in our yard. Thanks and I cannot tell you how much we love her.  She loves to follow my daughter around outside.  It is so sweet to see.